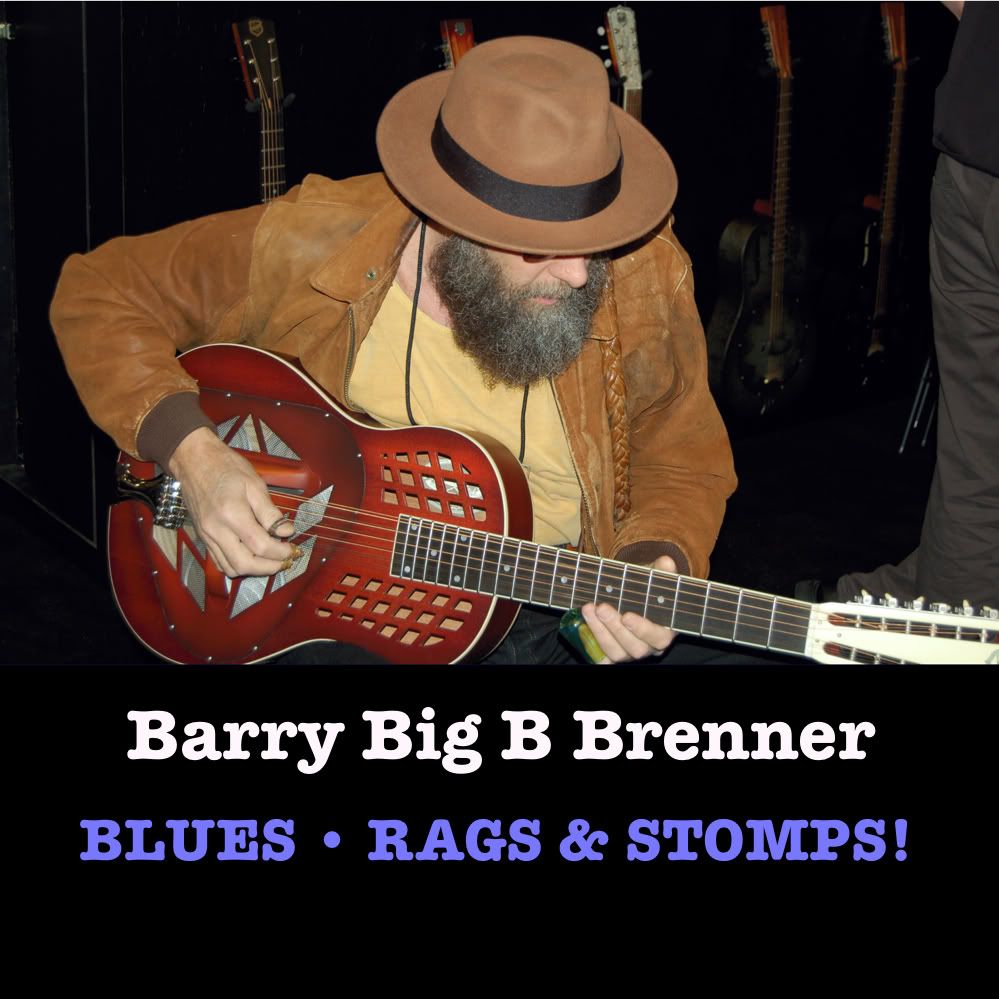 Play

Play Next

Add to queue
Play

Play Next

Add to queue

11,819 plays

Play

Play Next

Add to queue

12,958 plays

Play

Play Next

Add to queue

10,828 plays

Play

Play Next

Add to queue

10,146 plays
Genre: Americana / Blues / Folk

Location Los Angeles, California, Un

Profile Views: 90937

Last Login: 5/1/2013

Member Since 3/8/2006

Website http://www.msplinks.com/MDFodHRwOi8vd3d3LmJpZ2JicmVubmVyLmNvbQ==

Type of Label Unsigned

Bio

BARRY BIG B BRENNER: VOCALS & GUITARS (6 String, 12 String & Resonator). Born and raised on the SOUTH SIDE OF CHICAGO. Has performed alongside such notables as renowned blues guitar maestro ALBERT KING and Eric Burdon of Animals fame. Continuing in the grand American tradition of solo country bluesman and folk music songster. A lifelong proponent of Fingerstyle Guitar, Bottleneck Slide and Ragtime picking. Big B makes his mark on 6-string, 12-string & National Resonator Guitars. Brenner performs the real Country Folk Blues from Mississippi Delta, Texas Plains, Piney Woods, Piedmont Seaboard, Louisiana Bayou and of course, Chicago's South Side.

Members

Influences

Michael Bloomfield, Big Bill Broonzy, Doc Watson, Howlin Wolf, J.B. Lenoir, Otis Spann, Mance Lipscomb, ..Blind Boy Fuller.., Lightin' Hopkins, John Lennon, Shel Silverstein, ..Swamp Donkey.. (aka Ben Brenner), ..Lord Buckley.., Brother Theodore, Lenny Bruce, Moses, Son House, Charley Patton, ....Albert King...., Freddie King, B.B. King, Duane Allman, ..Brownie Mcgee.., Debashish Bhattacharya, Mose Allison, Snooks Eaglin, Blind Lemon Jefferson, ..Eric Clapton.., Johnny Winter, Greg Stone, Ernie Kovacs, The Band, ..Blind Blake.., Lonnie Johnson, Blind Willie Johnson, ..Tampa Red.., Sonny Boy Williamson I, Sonny Boy Williamson II, Larry Williams, Bo Didley, Eddie Cochran, Billy Gilbert, ..Joe & Eddie.., Gene Vincent, Stephen Stills, Jackie Gleason, Bob Marley, Burl Ives, ..Eric Darling.., The Wailors, Burning Spear, Buddy Holly, Bukka White, The Byrds, ..The Beatles.., Captain Beefheart, Carl Perkins, ..Bob Gibson.., Gus Cannon, The Carter Family, ..Leadbelly.., Charles Wright & The Watts 103rd Street Rhtyhm Band, Benorce Blackmon, Elizabeth Cotten, ..Elmore James.., Louis Armstrong, Mississippi Fred McDowell, ..Mississippi John Hurt.., Jimmie Rodgers, Chicago Jimmie Rodgers, ..Little Beaver.., Hank Williams, James Brown, Jelly Roll Morton, ..Jimmy Reed.., John Brim, Kingston Trio, ..Peter Paul & Mary.., Bob Dylan, ..Robert Johnson.., Joseph Spence, Larry Corryel, ..Laurel & Hardy.., John Coltrane, ..Neil Young.., Charlie Parker, Lowell George, .. W. C. Fields.., Li'l Son Jackson, Little Walter Jacobs, ..Muddy Waters.., Memphis Minnie, Memphis Slim, The Meters, ..Chuck Berry.., Otis Redding, Stax, Motown, Otis Rush, The Marx Brothers, Papa Harvey Hull, Gabby Pahinui, Professor Longhair, ..Cream.., Rev. Gary Davis, Robert Wilkins, ..Robert Nighthawk.., Skip James, Slim Harpo, Steve Winwood, Tommy Johnson, ..Toots & The Maytals.., Curtis Mayfield, ..Jimi Hendrix.........

Sounds Like

The GOOD Stuff!
For Sale Now at CDBaby!
OLD SCHOOL BLUES
http://www.cdbaby.com/cd/bbbbrenner2
Americana Roots Music at its finest.
It represents what you would likely hear TODAY
at one of Big B's impressive LIVE shows.
An enjoyable, eclectic mix of foot tapping, dance floor BLUES.
 ..
Barry, I know I got it a while ago from you, but I just finally listened to the "Blues, Rags, and Stomps" CD you gave me when you played here. Damn, what a great CD! To all you lucky folks who have this guy available for your entertainment nightly in your area, I highly recommend you get this CD from him if you don't already have it. What a great artist!.. .. ..Shawn Copen (Owner) The Pour House - Paso Robles, CA
Hey Big B........I listened to your My Space trax and would love to play them on the Sunday Acoustic Session, as well as elsewhere in the show. That's beautiful, beautiful music, man........Nick Gerard DJ "Nothin But The Blues" ..(KKJZ 88.1FM Long Beach, CA)
Hi Barry...I really enjoyed listening to your fantastic guitar playing! It is some of my favorite kind of music. Reminds me of the times listening to Rev Gary Davis & Mississippi John Hurt & all with my friends...I'll be back for more later..... Cal Schenkel (Graphic Artist: Captain Beefheart & Frank Zappa)
Barry...Things have been kinda busy since returning from L. A. I really enjoy your CD. Your approach to the music is truly authentic your playing style is right in the pocket. Some great pickin'. I am going to play a track from your disc on my program in Saint Maarten. You can catch the stream at ..www.island92.com.. Sundays at 7pm eastern and 4pm pacific time. The show is rebroadcast Thursday at the same time, so with this play, you become international! Thanks again for the great music and keep on playin' them Blues... ..Brian Elliott (President Colorado Blues Society)
Barry........ Just had to send a note to let you know ..that I love your tunes!! .. I had it cranked up here in the office.....had several people ask who it was! ..So, I am spreading the word bro! Cheers!".. ..Mike Henson (Founder/Director SC Blues Society)
Leo's "Bluesland" July 23, 2009 Part 1 with Barry "Big B"......... ....Leo's "Bluesland" Podcast
http://leosbluesland.podomatic.com/entry/2009-07-27T16_06_44-07_00
7 upcoming shows/events
SANTA MONICA, California, US
Barry Big B Brenner has 9164 friends.