Play

Play Next

Add to queue
Play

Play Next

Add to queue

9,148 plays

Play

Play Next

Add to queue

4,178 plays

Play

Play Next

Add to queue

6,998 plays

Play

Play Next

Add to queue

3,464 plays

Play

Play Next

Add to queue

5,363 plays
Genre: Folk / Pop / Psychedelic

Location London, Please select your region., Un

Profile Views: 97339

Last Login: 10/29/2011

Member Since 4/28/2006

Website http://www.myspace.com/nickgarrie

Record Label Elefant Records

Type of Label Indie

Bio

.. .. .. It's big news for .. Elefant Records .. to have the privilege of discovering an underground composer and witness and participate in his musical rebirth. Nick Garrie debuted with "..The Nightmare of JB Stanislas..", a psychedelic folk album published in ..1969.. and produced by ..Eddie Vartan.. (Sylvie Vartan's brother) but the record remained in the warehouse of the label, DiscAZ after the owner committed suicide immediately following the release of the album. .. Despite the fact that the copies of this magical album were scarce and the high cost for collectors (more than 1,200 euros), it was admired for decades. .. Leonard Cohen ..himself personally praised Nick on their joint tour in Spain in the eighties. Nick took part in luxurious collaborations, such as those in infamous soundtracks, along with ..Francis Lai.. (Oscar winner for "Love Story" and in charge of "Un homme et a femme", "Vivir por Vivir", "Bilitis", "Dark Eyes" and "Emmanuelle"). .. The scarce musical activity of this British composer re-emerges today thanks to the participation of the well-known Scottish pop scene: ..Duglas T. Stewart.. (BMX BANDITS), ..Norman Blake.. (TEENAGE FANCLUB), .. Ally Kerr .. (his true guardian angel) and the entourage of musicians who have rendered their services to record the next album, ..49 Arlington Gardens .., including .. Francis Lai .., who authors, along with Nick, one of the most romantic moments of the album. .. Buy the new album and limited edition 7 inch vinyl single from ..Elefant Records.. .. The album and single are also available to ..download.. from iTunes and all major sites. ...... Watch the new promo videos below..... .. .. .. .. .. .. .. .... .. .. .. .. .. .. .. .. Thanks to Manfred Alpine Lodge Gstaad, Lorenz Silversport Rougemont, Andre on bass Chemistube, St Stefan .... .. .. .. .. .. .. .. .... .. .. .. .. .. .. .. .... ...... .... .... .. .. .. .. .. .. .. .. .. .......... ...... ..........

Members

Management and booking: bobomusica@gmail.com Merchandising: http://nickgarriemerch.blogspot.com

Influences

Sounds Like

Duncan Browne..Scott Walker..Harry Nilsson..Donovan..Bill Fay
No recent updates in this category.
Why not...
03:16 | 1005 plays | Jan 30 2009
Bio:
..
It's big news for
Elefant Records
to have the privilege of discovering an underground composer and witness and participate in his musical rebirth. Nick Garrie debuted with "
The Nightmare of JB Stanislas
", a psychedelic folk album published in
1969
and produced by
Eddie Vartan
(Sylvie Vartan's brother) but the record remained in the warehouse of the label, DiscAZ after the owner committed suicide immediately following the release of the album.
Despite the fact that the copies of this magical album were scarce and the high cost for collectors (more than 1,200 euros), it was admired for decades. Leonard Cohen himself personally praised Nick on their joint tour in Spain in the eighties. Nick took part in luxurious collaborations, such as those in infamous soundtracks, along with Francis Lai (Oscar winner for "Love Story" and in charge of "Un homme et a femme", "Vivir por Vivir", "Bilitis", "Dark Eyes" and "Emmanuelle").
The scarce musical activity of this British composer re-emerges today thanks to the participation of the well-known Scottish pop scene: Duglas T. Stewart (BMX BANDITS), Norman Blake (TEENAGE FANCLUB), Ally Kerr (his true guardian angel) and the entourage of musicians who have rendered their services to record the next album, 49 Arlington Gardens , including Francis Lai , who authors, along with Nick, one of the most romantic moments of the album.
Buy the new album and limited edition 7 inch vinyl single from Elefant Records
The album and single are also available to download from iTunes and all major sites.
Watch the new promo videos below.
Thanks to Manfred Alpine Lodge Gstaad, Lorenz Silversport Rougemont, Andre on bass Chemistube, St Stefan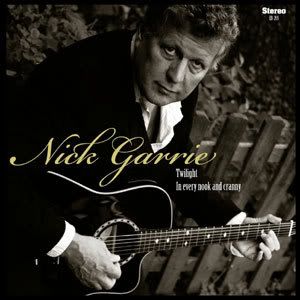 Member Since:
April 28, 2006
Members:
Spain management and booking: bobomusica@gmail.com
Sounds Like:
Duncan Browne
Scott Walker
Harry Nilsson
Donovan
Bill Fay
Record Label:
Elefant Records