Play

Play Next

Add to queue
Play

Play Next

Add to queue

25,723 plays

Play

Play Next

Add to queue

14,405 plays

Play

Play Next

Add to queue

88,394 plays

Play

Play Next

Add to queue

122,478 plays

Play

Play Next

Add to queue

105,230 plays
NEW UK TOUR - NEW ALBUM FOR 2012 AND FREE TRACK DOWNLOAD

Orbital will release a new album and complete a short UK tour in 2012. The album can be pre-ordered as part of a ticket purchase on the official ORBITAL website. There is also a new track free to download and/or to watch on youtube!

The track is called "Never" and will be part of the studio album due in April. Visit Orbital Official Website - ..www.orbitalofficial.com.. for more information.


The NEW UK TOUR for 2012 which concludes at the London Royal Albert Hall is shown below:-

Manchester - 5th April 2012
April 5, 2012 from 7:30pm to 11pm – Manchester Academy


Leeds - 6th April 2012
April 6, 2012 from 7pm to 11pm – Leeds Academy


Glasgow - 7th April 2012
April 7, 2012 from 7pm to 11pm – Glasgow ABC


Liverpool - 8th April 2012
April 8, 2012 from 7pm to 11pm – Liverpool Academy


Cambridge - 9th April 2012
April 9, 2012 from 7pm to 11pm – Cambridge Corn Exchange


London - 10th April 2012
April 10, 2012 from 7pm to 11pm – London Royal Albert Hall


Tickets can be purchased from the Official Website - ..www.orbitalofficial.com..


2011 - NEW ALBUM VIDEO DIARY PART 1, 2, 3 and Part 4 (from Valencia / MTV Winter)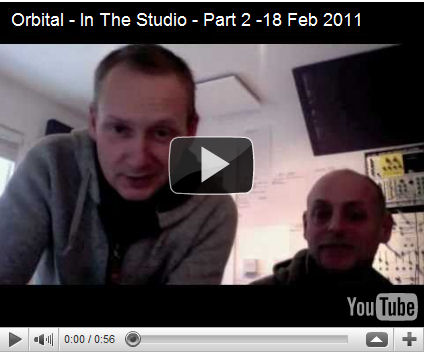 Paul and Phil are recording a Video Diary for their new album. This can be viwed at the Loopz Blog

GLASTONBURY 2010 HIGHLIGHTS


Dr Who (HD Version is also available on the channel)



SATAN (HD Version is also available on the channel)



Chime / Crime (HD Version is also available on the channel)



Dont Stop Me (HD Version is also available on the channel)





NEW DOUBLE A-SIDE SINGLE - OUT 20TH JUNE 2010


The Gun is Good video


ORDER NOW!





Legendary grandmasters of electronica, Orbital have just confirmed they will be releasing their first new material since 2004. 'Don't Stop Me' and 'The Gun is Good' will be released on 20th June through iTunes and through all other digital retailers and as a Limited edition 12" on 27th June.

These tracks represent the signature Orbital sound, with hints of new elements, and definitely a few surprises, signifying a band still at their creative peak, 20 years since the release of their breakthrough debut single, 'Chime'.

Buy from iTunes

ORDER ONLINE HERE NOW

Release Date : 20TH JUNE 2010
DIGITAL / LIMITED EDITION 12"
Label: ACP Recordings.




Orbital YOUTUBE channel
We have setup a Loopz / Orbital video channel to capture some official videos plus some very unique live and backstage footage. Link is below - feel free to leave comments!
Loopz / Orbital You Tube Channel
MAY 6th 2009
ORBITAL - 20
After unveiling headline performances at this summer's hottest dance festivals, as well as a UK headline tour, dance pioneers Orbital announce the release of their most well known tracks plus some new mixes. Simply titled 'ORBITAL 20' the compilation celebrates 20 years of ground-breaking electronica, reworked and remixed onto 2 CD's of generation-defining dance music, to be released on June 8th via Rhino Records.
"This compilation is the most definitive summary of our work since 'Chime' came out in 1989", says Paul Hartnoll on the release of their definitive collection, "It's a great introduction, or indeed a reminder, of the story so far..."
Track listing plus a snippett of one of the new remixes can be found on the NEWS page at
http://www.loopz.co.uk
.
ORBITAL - Next Live setup
First details or should i say, photos, have been sent to
www.loopz.co.uk
by Paul Hartnoll of the next live setup. For those who like their hardware...please visit the NEWS page at
http://www.loopz.co.uk
for the first look!
MARCH 2008 - Newsletter
Orbital
We get a lot of messages on myspace asking is THIS the offical Orbital Myspace? Well, we decided to get this cleared once and for all. I will let the picture answer the question (Thanks Paul)
Please note we review the friend requests every week so there maybe a slight delay in adding you to the list, but we will get there eventually. Also we dont allow comments pluging music, music nights on the comments section to ensure its spam free and all about Orbital. If you send any other comments then they will be denied.
Paul Hartnoll
Paul Hartnoll has started work on not 1, but 2 albums. The 1st is a solo album which is so far geared towards electronica but the 2nd album is being written alongside Lianne Hall who was the guest vocalist on his debut album, The Ideal Condition.
Late last year, Paul was asked to co-produce The Music's next album alongside legendary producer, Flood! "Strength by Numbers" will be out hopefully in late spring.
Continuing his love of score music, Paul has composed some music for the episode "An Officer and a Lady" as part of the new "Cutting Edge" television series. He also completed some work for a film by Jes Benstock entitled "The Man with an Extended Mind". This can be viewed via the popular YouTube website. Links are shown below:-
The Man with the Extended Mind
Part 1/4
Part 2/4
Part 3/4
Part 4/4
MARCH 2008 - Newsletter - END
LONG RANGE DEBUT ALBUM - "MADNESS AND ME"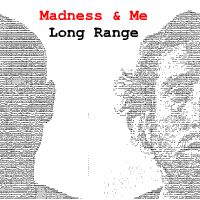 ..
BUY IT FROM AMAZON
BUY IT FROM HMV
ORDER ORBITAL LIVE DVD/CD
..
ORDER PAUL HARTNOLL - THE IDEAL CONDITION
..
BUY PAUL HARTNOLL - PLEASE
BUY OTHER ORBITAL CDS/DVDS ONLINE
Links
:
Longrange (Phil Hartnoll) :
www.Longrange.tv
:
Longrange Myspace
Paul Hartnoll :
www.PaulHartnoll.com
: ..Paul Hartnoll Myspace..
Orbital :
www.loopz.co.uk
Orbital Biography
:
Named after Greater London's own circular autobahn, the M25 -- central to the early Rave scene and party network in the South East during the halcyon 'daze' of Acid House -- Orbital are manned by brothers Phil (b. 09 Jan 64) and Paul Hartnoll (b. 19 May 68). .
From their relatively humble beginnings producing simple but infectious top 20 Pop-Dance tunes to their more recent sophisticated top 5 Pop-Dance tunes, classic albums, film & TV scores and beyond, Orbital have crafted some of the most innovative yet accessible electronic music since their inception in 1989 whilst at the same time retaining great respect for their live work due to their extraordinary shows around the globe which pay as much attention to the live mixing of visuals and choice of imagery, as to the live sound itself. Perhaps, though, one of their greatest achievements is their longevity which is firmly based on a sound that is recognizably their own, coupled with a will to proceed at their own pace and on their own terms with little regard to the industry machinations that surround them or the musical fads and trends that come and go.
Originally from Sevenoaks (a suburban 'commuter reservation' somewhere in deepest Kent) the Hartnolls grew up listening to second generation punk (Crass, Dead Kennedys, Crucifix...), mutant-electro (Severed Heads, Hula, Adrian Sherwood...) and early Hip Hop (Phil went over to New York in the mid-eighties in order to 'find' Hip Hop). By 1988 Paul had contributed two electro pieces (!) to FFrr's 'House Sound Of London Volume 4' under the name D.S.Building Contractors, but it wasn't until the following year that the first true Orbital release emerged: the single 'Chime'.
The original 1,000 copies released through Jazzy M's Oh-Zone label sold out immediately through word of mouth alone and the track was picked up by London Records subsidiary FFrr with whom it soon became a nationwide Dance anthem. This translated into a number 17 singles chart position and gained the Hartnolls a 'Top Of The Pops' appearance where they 'performed' (ie. reluctantly) whilst sporting anti Poll Tax T-shirts. A decade later, the often sampled and bootlegged 'Chime' is still regarded as a classic and has remained one of the highlights of many a live set over the years.
In the period 1990-1991 the burgeoning UK dance scene was still very much perceived as a short-lived phenomena with limited crossover potential and the very idea of a 'dance' artist producing an album as opposed to an endless stream of 12' cuts for club consumption was still a relatively uncommon occurrence, yet when Orbital released their untitled debut long player, or 'green' album, it was to unanimous critical approval and was early proof that dance/electronic music could after all produce albums that would have to be taken as seriously as those produced by conventional Rock acts. Over the coming months remixes carried out by Orbital became further evidence that the Hartnoll brothers had by now established a distinctive sound of their own whilst retaining a characteristically diverse approach to their work.
In the summer of '93 they became instrumental in setting-up and then went on to headline the Midi Circus Tour, a roaming electronic extravaganza which traveled the UK spreading the latest word on live dance music. Next came the release of their second album. Once again an untitled double LP, it became a resident in the upper reaches of the UK Indie album charts for the next few months. The 'brown' album, as it's now generally referred to, bore the now classic Orbital live standards 'Halcyon+on+on', 'Remind' and 'Impact (The Earth Is Burning)', going on to feature highly in most end-of-year Best Album polls. A tour of the US (their second) and two sell-out nights at the Brixton Academy (New Years Eve and New Years Day) finally brought Orbital's hectic year to a close.
March 1994 saw the release of their John Peel session (recorded the previous Autumn) which featured two tracks re-worked from the 'brown' album together with two new compositions. At Glastonbury, Orbital played the coveted final slot on the second stage, previewing some of the new material from their soon to be released third album. The show was a resounding success and sections were broadcast by Channel 4 and John Peel. On its release, 'Snivilisation' entered the album charts at number four, quickly followed by the single 'Are We Here?'. The album broke the hitherto 'no title' rule and sported for the first time a non-graphic cover courtesy of noted painter John Greenwood. Musically, too, it was a departure from their previous collections, the material being far more disparate in style than before. On the accompanying 'Are We Here?' UK tour Orbital played to packed houses throughout the UK where they played 'in the round' from the top of a specially constructed scaffolding tower before heading off to play the Woodstock 2 festival in the US.
1995 saw the release of their remix of Madonna's 'Bedtime Stories', followed by a triumphant headline slot at Tribal Gathering and Main Stage performance at Glastonbury, which many thought even better than that of the previous summer. The year's new material came in the shape of a track recorded for the Sony Play Station game 'WipEout', an untitled EP featuring 'Times Fly' (which proved to be too long to be eligible for chart inclusion) and a track, 'Adnan', donated to the 'Help' compilation.
In April 1996 Orbital released a new single, the dulcimer-driven 'The Box' (number 11), quickly followed by their fourth long player, 'In Sides'. Perhaps their most adventurous collection up until that point, the album may have been a more studied and sombre affair than 'Snivilisation' yet the Hartnolls' love of film soundtracks revealed some startling results, and though it's well-crafted mixture of beats and cinematics unwittingly opened the floodgates to a stream of largely uninspiring copycat James-Bond-with-a-dance-beat efforts, 'In Sides' was universally acclaimed and entered the album charts at number five on week of release.
By May, the Hartnolls embarked on their first full UK tour for over two years which included a triumphant performance at a filled-to-bursting Royal Albert Hall, proving once and for all that Orbital had finally escaped the limiting definitions of 'Techno', 'Dance' et al, whilst at the same time taking live electronic music even further into previously uncharted territory. By the end of the year 'In Sides' featured highly in most of the 1996 Best Albums polls. On New Years Eve Orbital played to 12,000 people at Alexandra Palace and released a live version of 'Satan'. The track had originally been recorded in 1991, though it had only reached as far as 31 in the charts when it was released that year as a single. This time around it entered at a much more convincing number three.
In April 1997 Orbital went on to release their own version of the theme tune to the 60's cult TV classic 'The Saint' from the soundtrack of the Hollywood remake starring Val Kilmer as Simon Templar. The film itself (understandably) received mixed reviews though the single became their second UK top three success since Christmas, whilst on the live front that year Orbital's main appearances were at Tribal Gathering, two sets at the Phoenix Festival and the closing slot on East coast leg of Lollapalooza in the States.
To mark the first ten years of Hartnoll activity, in April they released their fifth album, 'The Middle of Nowhere', which became their third consecutive Top 5 chart placing, preceded by their most successful UK tour to date.
2000 -- After taking a short and well-earned break the Hartnolls began recording their 6th album, The Altogether. The first track to make its airing was Meltdown when it was supplied for a modern dance project as part of the South Bank Centre's Meltdown Festival which was curated by one of the Hartnolls' all time heroes, Scott Walker. Orbital completed a small world tour in South Africa, Greece, Ireland and Japan. Orbital play a one-off live show at the Hammersmith Palais as part of Q magazine's pre-award ceremony celebrations: one of three new tracks previewed on the night ("Tension") is later broadcast on Channel 4. On New Years Eve they round off the year with a live set at the London Arena in Docklands with Leftfield. The set is broadcast the following day on Radio One.
2001 - Orbital release their sixth studio album The Altogether and their first DVD with 5.1 SurroundSound. They headline Homelands and embark on a UK Tour including 2 shows at Brixton Academy.
2002 - Work the greatest hits album is released. Orbital close the second stage at Glastonbury on the Saturday night and also play 2 open air concerts at Somerset House on the Strand in London.
2003 - Orbital score the music to the horror film Octane directed by Marcus Adams and starring Madeleine Stowe. The score album is released by EMI in October. They also score the US TV series Keen Eddie and begin working on tracks which will become the Blue Album
2004 was the year Orbital finally decided to take a long break (initially called a split!). After 15 years together Phil & Paul moved onto different projects but finished with a few goodbye shows at Brixton Academy show and closing Glastonbury on the second stage. The 7th studio LP the 'Blue Album' was released on June 21st.
2009 - Orbital reform. The year will be a busy touring schedule appearing at various festivals around the world.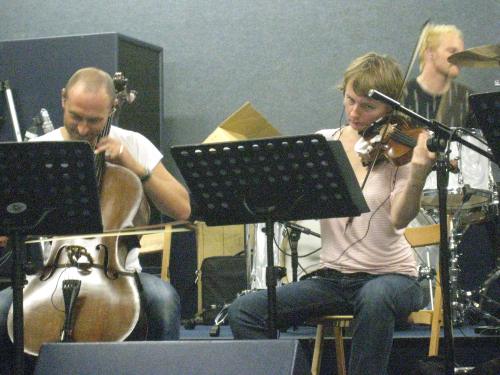 PAUL HARTNOLL - THE IDEAL CONDITION - LIVE - REHEARSAL PICTURES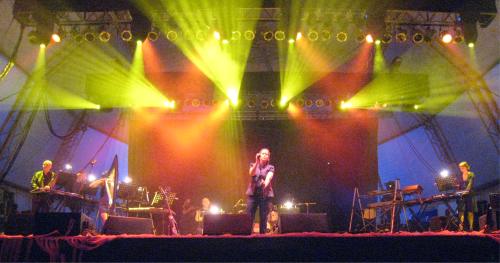 PAUL HARTNOLL - THE IDEAL CONDITION - LIVE AT THE BIG CHILL

More picture on the News page at

www.loopz.co.uk

..

........
Member Since:
July 16, 2006
Members:
Paul Hartnoll Phil Hartnoll
Record Label:
Orbital Music / Warner / FFRR / London Records
No recent updates in this category.
Why not...
06:52 | 2518 plays | Feb 1 2009